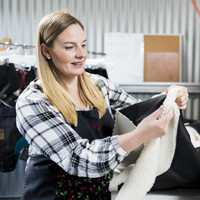 Handmade For Your Best Mate
Discover Australia's top lightweight waterproof dog coats, portable dog mats, and all-natural dog treats that are made with your furry companion in mind.
Our products are handcrafted to endure the test of time, with internal and external stitching and strong, comfortable adjustment features that ensure longevity. In fact, many of our customers report using our coats for up to 16 years after purchase.
With 4 designs of oilskin dog coat to choose from and your choice of warm sherpa fleece or cool cotton lining, your best mate will be both stylish and comfortable. You can even add reflective strips, pockets, or customized harness holes for a personalized touch.

We believe in practicality! That's why our Best Mate Dog Mat comes in 4 different sizes that fit most dog crates, and our XL mat doubles as a car seat cover.
We understand how much your furry friend means to you, which is why we offer only the highest quality all-natural Australian-made dog treats.
No matter the breed, shape, or size we've got what your best mate needs to stay healthy and happy.
Show your best mate how much you care by spoiling them with our premium products!
See Our Range
What Our Customers Say:
We've tried many different types of dog coats over the years, these coats are by far the best. Our 2 whippets look amazing in their Fair Dinkum Coats.  They fit our dogs really well and are easy to put on and take off. Thanks Fair Dinkum Dogs, we love our coats!

Mandy C
I have just received my rug today and Elise was so helpful when I ordered the rug I wanted mine a bit different but nothing was any trouble the rug fits ripp like a glove I really would recommend her rugs so well made the two great sized pockets will come in handy thank u Elise for such a great product ❤️

Sue W
Just received my custom greyhound coat and it is perfect! it is so well made, and a perfect fit, and it arrived super fast too! I would definitely recommend Fair Dinkum Dogs. It is easy to put on, and fastens well, no slippage side to side either.Thank you for such a fantastic coat!!

Amanda W
Fair Dinkum Dogs On Insta